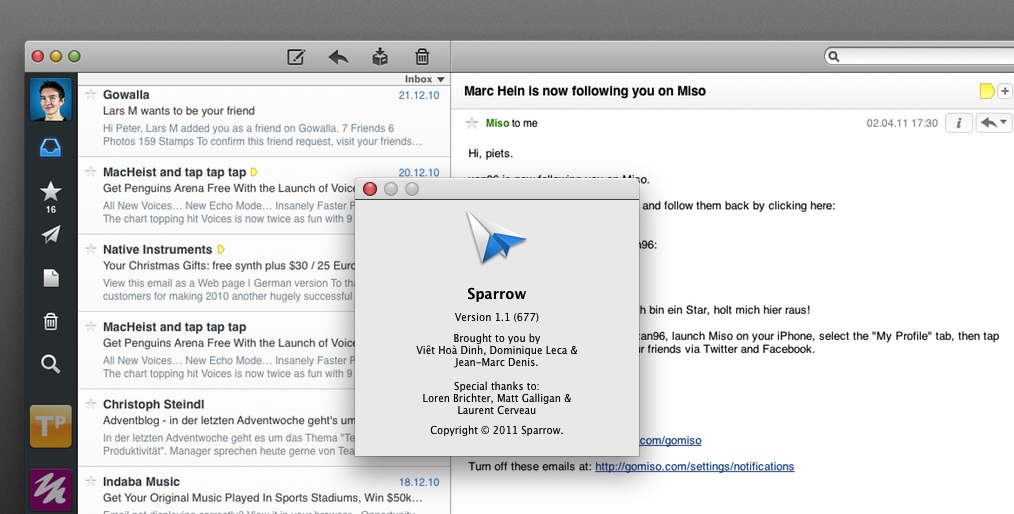 I guess mail is the most important invention since sliced bread. And I really care about mails. I have already tested Postbox and MailPlane so far. But both of them weren't the perfect fit for me. Postbox was not very "Mac OS X"-ish and MailPlane could, of course, only handle my GMail accounts. And then SparrowApp made it to the Mac AppStore.
The Interface
Sparrow features a very easy, yet powerful, interface. When you first start the Application you get reminded of Tweetie for Mac (aka. Twitter for Mac). Although the design is very simple you can still work really great with it. I really enjoy using this interface.
The Features
Sparrow handles GMail accounts natively, as it was built for them. But since version 1.1 also regular IMAP server are supported. I tested both variants and everything works perfectly. I only found one downside: I couldn't manage to view the folders I have in my IMAP account.
The Workflow
When a new Mail arrives Sparrow can display a Growl notification and play a sound, which I think are both very useful things. You then can instant reply to this email within the same window. So you don't have to mess around with various windows. You can also tag this email, archive it or delete it. Everything works very nicely and stable. One very nice feature is, that conversations automatically get grouped together in the message view. Attachments can be downloaded, or if they are images are displayed inline.
Summary
I can really recommend this Application, and with a price-tag of only 9.99$ I think theres not much to do wrong with it. And you can also download a free version in the AppStore to test. the Lite version only supports one GMail account, but everything else works just as normal. So get out there and try it. Now!