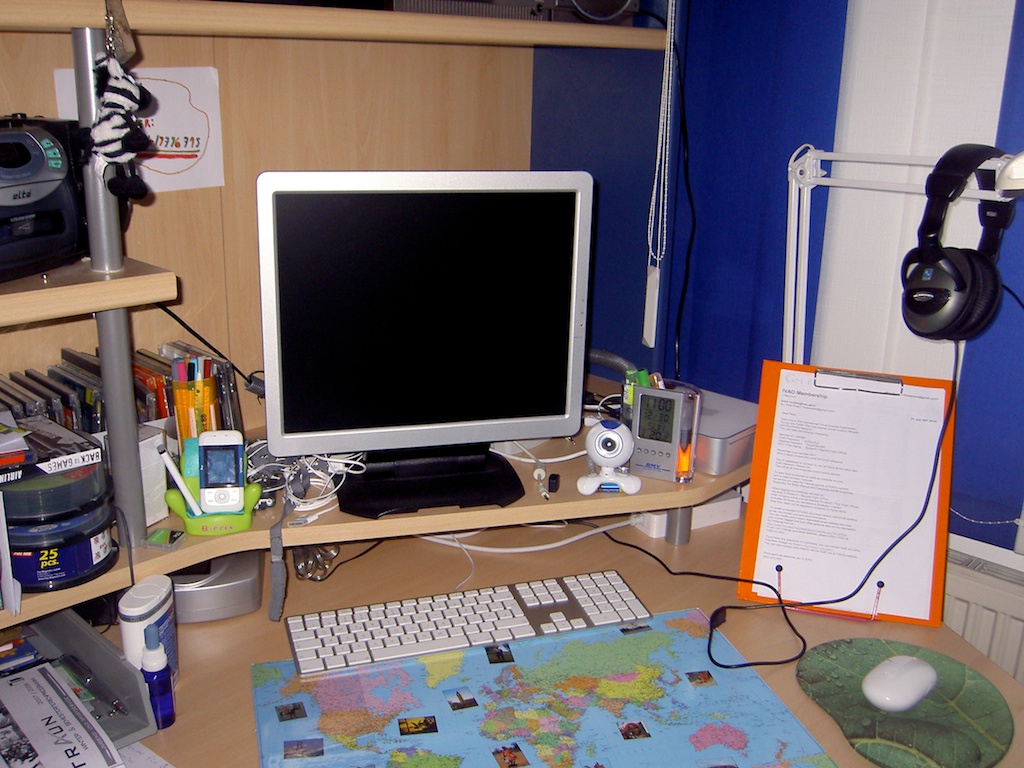 As @schlingel recently celebrated his 5th "Twitter-Birthday" (Congratulations!), I started thinking about how everything started for me. So, this is my story, broken down to the bare minimum, starting with my first Mac.
The first Mac
I bought myself my first Mac (mini) one year after I got my first PC. That was 4 years ago, on christmas-eve 2007. I guess it's one of those days you'll remember your whole life because it changed so much. (Don't get me wrong here, I don't say that buying a Mac changes everything, but it did for me). The picture on the top was my setup back then. Dude, I was 12 back then.
The Internet
One of the first things I did with my new Mac was, registering a Twitter account. According to this tool my Twitter birthday is on April 12, 2008.
I guess I started this blog (it was then called "Peters Blog") also around this time. With a shitty template, that's all that I can remember. Sadly, or probably luckily I can't find a screenshot of it anymore.
The Podcasts
It happens that I uploaded my first YouTube video on the same day. So, that's my first movie I did. Shitty story. Shitty graphics. But hey. (BTW, this was done with iMovie 6 HD if I remember correctly.)
However this was not my first media file in the internet. As it turns out, I recorded my first audio podcast on March 22nd. And I'm proud to announce that it was in fact not lost, and that I'm glad to share a copy of it with you today. Please excuse my voice. This is pre-puberty material :-D
The first episode of "AppleNews" aired on October 3rd (we are still in 2008, so I was about 13 years old).
The Coding
One part of me was always obsessed with computers and what magic makes them work. If the stats are correct, I started writing AppleScripts on May 12th 2008. At the age of 13. I guess this is why so many people say I had no life back then ;-D
After writing AppleScripts became somewhat lame, I started writing PHP-Scripts, somewhere between 2008 and 2009.
And then, in 2009 I started working on my first iPhone Apps. At the age of 14 I published BitnappingTV in the AppStore. Sadly the code in the App looks exactly as you'd expect from an 14 year old boy. (btw, I found a never released Screencast of a never released version of BitnappingTV for iPhone. Recorded in August 2009. Here you go)
The Story continues
Of course it didn't stop there. For example I did my first internship at Boinx in 2010 (with 15 years), and a year later the second one. This year I'll do my third one at Boinx. I love you guys, for all the support I received from you!
Today I still code very much, I still do a podcast (although it's now TouchTalk rather than "PetersCast" or "AppleNews"), and I still love browsing the net. I found lots of friends in the past 4 years, and I'd like to thank them all.
So, this was a short flash-back to 2007 and a much faster fast-forward to now.